In order to foster scientific temper and spirit of enquiry in students by letting them test and verify various theories and principles of Chemistry, the school has well equipped, maintained, instrumented Chemistry laboratory. The purpose is to impart elementary knowledge and basic practical techniques among the students. Here students enjoy to analyses various skills of Chemistry Practical.Our school's Chemistry lab has state-of-the-art apparatus: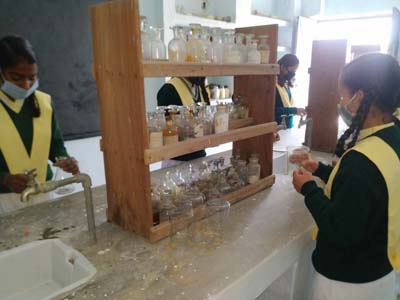 Built according to modern architectural design, Physics Laboratory of the school is equipped with all the latest lab apparatus. The lab is multi-faceted for students of XI-XII to nurture their technical skills. Their theoretical knowledge is put into practice by making the students experiment on topics like optics, measurement, electricity etc under the guidance of qualified teachers. The experiments carried out with intricate details here remain forever in the young minds once imbibed. The entire functioning is done as per standardized safety norms.
The value of experiments in learning and teaching of Biology is very important. Students are able to retain the knowledge for longer when they see the experiments being performed in front of their eyes. The laboratory of Biology in the school is completely adorned with essential apparatus spaciman microscope, test tube, beakers, burners, permanent slides, balance, dissection box, cavity slides, watch glass etc .Girls, those want to make their carrier in the field of medical, research in Biology and have interest the study of nature, Biology lab impart the basic knowledge of these fields.